Last week saw the first of a two part television documentary "Five Star Babies" on BBC2, about the day to day running of The Portland Hospital.
Now normally at nine o'clock in the evening I am busy helping take over the world playing "Call Of Duty", but on this occasion I had to make an exception!
The Official Photographers to The Portland Hospital
As you may already know, I am one of the company directors and chief photographer at Imagethirst Ltd, The Official Photographers to The Portland Hospital for Women and Children, so I just had to tune in and see what the months of filming had transpired to.It was great to see, on national television, the hard work that the Imagethirst team have done over the years, with the variety of different portraits on the walls and corridors inside The Portland Hospital.
Starting in 2002, Imagethirst has been working with The Portland Hospital for over fourteen years. Over that time we have photographed thousands of babies, and throughout the years we have watched these tiny little babies grow up and have celebrated their christenings, birthdays and milestones in their family's lives. It is such an honour to be part of such precious moments in anyone's life.
Our continued hard work and creativity has in turn has taken us to different countries all over the world, including New Zealand, The Middle East, The Maldives, Hong Kong and many more. My team have an International Tour every year covering every continent.
We have built a strong bond and relationship with the staff at The Portland and from day one I been most welcomed and have felt part of the "Portland" family. We are all one big happy smiley family dedicated to our clients and the Five Star Service we provide.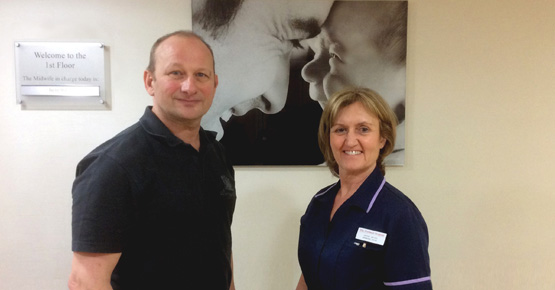 Here I am with Jayne, one of the wonderful midwives that I have known for many years, in front of one of my favourite photographs that I have taken and that is on display at The Portland Hospital.
We look forward to many more years with our presence in The Portland Hospital.