Designing a nursery for your little baby-to-be but not sure where to start? We invited Gigi Brooks, the go-to experts in children's interior design, to share their insider knowledge and give advice about how to create a charming yet practical nursery.
At Gigi Brooks we believe style has no age limits and we're passionate about creating truly magical spaces for babies and children. Designing a nursery is a very special and rewarding experience, but it can also seem a little daunting, especially if it's the first time. We have worked with many clients to transform their space into stunning nurseries reflective of their personal style, and here are our treasured tips that we give our clients.
1. Incorporate the style of your home into the nursery décor
When creating a nursery, we often advise parents to consider their personal style and treat the space as an extension of the rest of their home whilst adding as many characterful, engaging elements as they would like. Choosing colours that evoke calm and relaxation allows new parents to focus on the needs of their baby and the important task of making special memories together. Babies favour black and white against very high contrast colours such as red and yellow in their newborn days, so be sure to introduce them to these in books and toys if these colours aren't your preference for the colour scheme!
2. It's vital to carefully consider the room's practicalities and safety
Select the room's essential items and build the rest of the look around these key pieces. Consider the size of the room and how long it will be a nursery. Would you want a cot that can change into a toddler bed or will they be in a different room once they grow out of their cot? A baby will need somewhere to sleep, feed and be changed, so the cot, nursing chair and dresser are of great importance. Mum will spend many hours nursing or relaxing with baby in the nursery, so investing in a comfortable chair will make this time so much more enjoyable. We recommend a glider, rather than a traditional rocking chair, as the motion is so smooth.
When laying out a nursery, make sure it's a secure environment for your little one. For example, a cot should be positioned away from windows and heaters to ensure the temperature can be regulated; wall decorations and anything hanging loose in the room should also be kept away from the cot.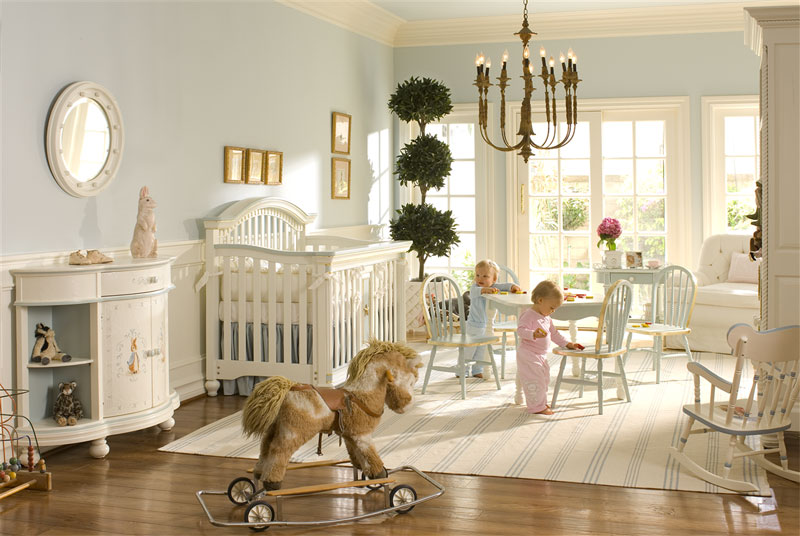 3. Consider the longevity of the nursery furniture
We recommend furniture pieces that can grow with the child, such as a cot that can have rails added to turn into a toddler bed, a changing station that easily changes into a dresser and so on which aids the transition from baby to toddler. With so many fabric options to customise pieces, a nursery glider can be used as a luxurious lounging chair or for you to sit together with your child for reading time.
4. Create 'nooks' for education, creativity and play
We believe it is important that children are permitted to express their personalities in their bedroom, as this is often the only room in the house where they are able to do so. This is also the best way to inject their personalities whilst also encouraging their development. For example, adding a chalkboard wall or vinyl decal gives them a creative space to showcase their artistic flair. Working with them to design a custom bookcase and reading space will guarantee they are excited to choose their favourite books from a young age.
5. Bear in mind that a child is likely to outgrow a characterful, whimsical theme more quickly
Children change what they like in the blink of an eye so unless you are willing to cater to every whim, use paint rather than wallpaper and then add wall stickers that can be easily updated. Subtle details, such as woodland characters used on the handles for furniture and in the room's accessories, are relatively simple to change as the child grows. Add their favourite things through accessories that can be more easily updated than large furniture pieces; a nautical lamp, a woodland rug and superhero artwork can all be replaced with minimal fuss.
Clients come to Gigi Brooks because they want to create magical nurseries or children's bedrooms. We relish the opportunity to bring to life a vision that seems impossible. Our unparalleled bespoke interior design service allows us to work hand in hand with our clients every step of the way, from initial concept and creative illustrations to final products and white glove installation. Pictured is a carefully curated collection of inspiration that provides the merest hint of what we're capable of at Gigi Brooks – whether you want to make a bold statement or would prefer something more subtle, we will bring your ideas to life.